Check Your Balance
About the Fall Prevention Month "Check your Balance" events
Impaired balance control is a risk factor for falls in older adults (Ambrose, Paul, & Hausdorff, 2013). Wii Balance Boards are a cheap and effective tool for measuring static balance control, which may even be able to predict falls (Kwok, Clark, & Pua, 2015).
How does it work?
Set up a "Check your Balance" station in your organization, and have older adults get live feedback relating to their body's sway (centre of pressure excursion).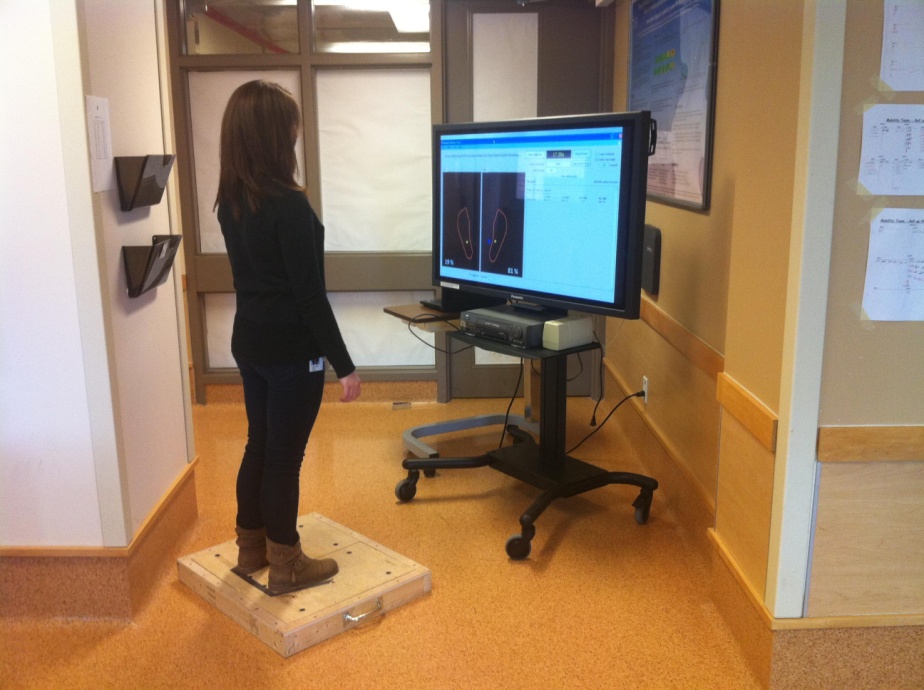 All you need is:
2 Wii Balance Boards
A Windows computer with a Bluetooth connection and speakers
A large monitor to display live feedback
The software, which can be downloaded free of charge below (as a zip file)
There are support files inside the zip file:
A ReadMe file to get started
A Word document with simpler instructions on getting set up
A PowerPoint file with two posters that explain what is going on, and show clinical norms
The software is set up such that the individual is coached (through visual and audio cues) to:
Stand still with eyes open
Stand still with eyes closed
Wii Balance Boards cost about $100 each, are easy to set up, and have potential to inform clinical practice.
Important Note
The grant that funded the development of this software has ended. We will continue to provide the software free of charge, but we are unable to provide any technical support to those using the software.
References
Ambrose, A. F., Paul, G., & Hausdorff, J. M. (2013). Risk factors for falls among older adults: a review of the literature. Maturitas, 75(1), 51-61.
Kwok, B. C., Clark, R. A., & Pua, Y. H. (2015). Novel use of the Wii Balance Board to prospectively predict falls in community-dwelling older adults. Clin Biomech (Bristol, Avon), 30(5), 481-484.